FlyFishRC Flash 2004 FPV MOTOR
This is the FlyFishRC Flash 2004 FPV Motor.
Introducing the FlyFishRC Flash 2004 motors, available in two versions:
1800KV best for 6S setups
2900KV best  for 4S setups.
Designed with meticulous attention to detail, this motor is highly versatile as it can be a great fit on a 3.5 inch carrying a GoPro, a long range 4 inch, or a super lightweight 5 inch quad, offering exceptional performance and reliability. The Uni-Bell structure design, known for its durability and crash-resistance, ensures that the motor can withstand challenging flight conditions without compromising performance.
Crafted with high-quality materials and advanced engineering, the Flash 2004 Motor guarantees a longer lifespan. It features NMB bearings and N52SH heat resistant magnets, which work in harmony with the up to 220°C high heat resistant copper wire, providing optimal performance even under demanding situations.
The 7075 Unibell bells, renowned for their robustness, contribute to the motor's durability and longevity, ensuring it can withstand intense flying sessions. The sleek black color adds a touch of elegance to any FPV build, allowing for a stealthy and sleek new design
If you are seeking a high-quality motor for your FPV drone, the FlyFishRC Flash 2204 Motor will be an excellent choice.
Product Highlights
Unibell Design
High strength titanium alloy shaft and 7075 aluminum
220°high temperature resistant copper wire
NMB imported bearings and N52SH magnets
Thickened motor base
High-precision manufacturing and assembly process
Strict dynamic balance and performance QC
16.6g (including 150mm wires)
Product Information
Model: Flash 2004
KV: 1800KV/2900KV (select)
Input Voltage: 4S/6S Lipo
Configuration: 12N14P
 Motor dimensions (Dia *Len): 16.5*26MM
Weight: 16.6g (including 150mm wires)
Wire length: 22AWG 150mm
Mounting pattern: 12*12mm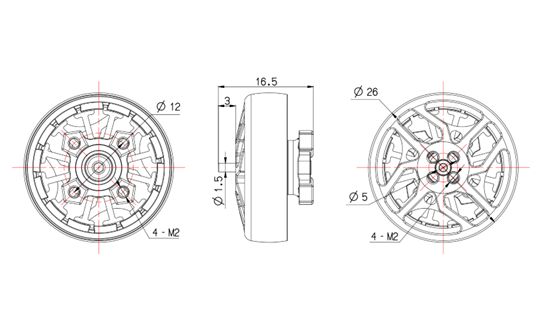 In the box
1 x FlyFishRC Flash 2004 FPV Motor.